Dear Readers,
How can you get back to that six-year-old feeling?
Oh, to be 6 years old again!
Free of all the complications!!
What can children teach us?
*・゜゚・*:.。..。.:*・゜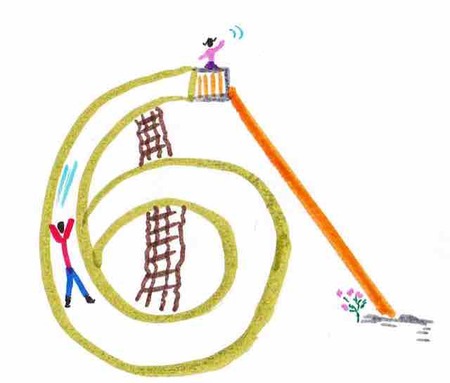 I have nieces and a nephew and I have beeen watching them grow since they were babies. When my oldest niece was eight months old, she was shy of me. When I went to see her, she always cried. So I searched for the reason on the internet. Then I understood her feeling and found the best way of countering her shyness.
The reason a baby cries is like when a tiger happens to come to a flock of sheep. It means that I have to become a member of the group. In other words, I have to show her me making friends with her family who live with her. As soon as I entered the room, I danced with my mom. And then, she stopped crying.
I learned that I should put myself in somebody''s place. We should think like "The little Prince."And the book said "One sees clearly only with the heart. Anything essential is invisible to the eyes."
Anyway, recently we had my nephew''s forth birthday party. My mom bought the cake as usual and my six-year old niece said "You are always too kind." in a humble manner. My mom was impressed with what she said, because adults sometimes forget saying even "Thank you."
Why do children sometimes find out the essence? I''d say my niece is a preschool child so she doesn't know how to compare herself with others and dosen't have many past experiences.And also she doesn''t have to prepare for the next day so she lives for the moment. In other words, she has no evil thoughts. Six-year old children can speak and understand what adults say.
Once a Japanese comedian said "When I was five years old, my mental age was the highest."
Adults who have a lot of evil thoughts have to learn from small children.
I know, The little prince starts with this phrase "When I was six years old", you know.
*・゜゚・*:.。..。.:*・゜
Have a great week☆彡
Thanks for reading!
Hitomi Horiguchi