Dear Readers,
Blueray, DVD, VHS, Super-8?
How far back do your memories go?
*・゜゚・*:.。..。.:*・゜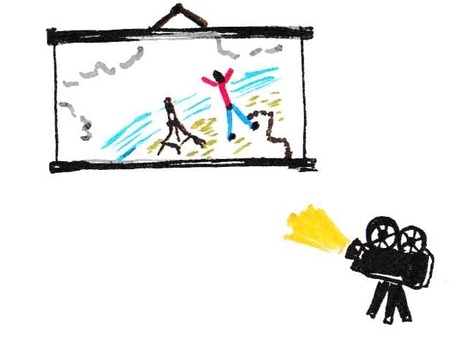 There is only a month left this year so we talk about looking back on this year in our sessions lately.
I had been thinking that I didn't read past articles of my blog again and look back, but to be precise, I looked back that day and completed it today. As if cleaning up my room every day so I don't need to do the year-end cleaning. I can always feel a new year's atmosphere in my room every day.
When did I start being in a habit of looking back? I'm sure I was inspired by my father and teachers in my childhood.
My father had an 8-millimeter movie camera and he used to film our family events. So we were looking forward to watching it after editing. And then we watched them on the screen. Those movies showed what I did in the past and I could see myself from the third person. That made me more satisfied.
And also our New Year's cards were quite unique. It was like a serial in a magazine. There were five sections like my father, mother, me, my brother and sister. We wrote something with 200 words about looking back at the last year and New Year's resolution. As I was raised in this environment, it's necessary for me to look back in a "timely fashion."
I haven't changed for a long time. After my seminar, I usually enjoy looking back listening to the recording with my client who helped me, and having a cup of herb tea at midnight. The day after that we have a delicious lunch still basking in the afterglow of that.
While doing that, participants send me feedback one after another and I write the report about my seminar and finally I complete the event. I enjoy myself to the fullest and I feel the state of the seminar
coming to an end so I want to create a new seminar.
Bamboo tree trunks have a joint point to grow up. I think that children have many events such as recitals, thier school terms and graduation so they have turning points to change and grow up. But for adults, if they don't feel a turning point, they feel the same as usual and just floating along and it's not going to make a bit of difference.
One day is the smallest unit of life and it's important to look back each day. Then everyday is a new day!
One who doesn't look back forgets what one does easily and finds it difficult to take stock of one's achievements.
Don't forget to put a tape into your video camera before filming your movie.
*・゜゚・*:.。..。.:*・゜
Have a great week☆彡
Thanks for reading!
Hitomi Horiguchi